The Middle Ages and the Early modern period cover a wide period from the beginning of the statehood of the Grand Duchy of Lithuania (GDL) in the 13th century until the official abolition of the state in 1795 (III ATR division). During this period one of the most important events was the Christianization of Lithuania in 1387. Since then, the Christian worldview started to spread in the country: instead of cremating the dead, inhumation became the main burial type; the establishment of parish churches and the written language took place in many regions of the country.
From the founding of the state until its abolition, the country remained agrarian – most of the population lived in rural areas and was highly engaged in agriculture. The Volok reform proceeded the substantial changes that resulted in the new layout of villages and the serfdom of peasants. At that time, some settlements were granted Magdeburg rights. The acquired independence turned one place into a big city and the other into a small town. This development of cities and towns especially intensified in the 16th century. In urban areas, the population was more complex than in rural areas. Urban society was ethnically, religiously and culturally diverse. Historical records testify the variety of nationalities – Jews, Poles, Tatars, Germans, Scots, Russians – and the presence of churches, synagogues and other houses of worship shows that they were all a significant part of the city's population.
The residents of the Grand Duchy of Lithuania, regardless of their social status, denomination or nationality, had to face several calamities – wars, famine and epidemics of various diseases. In the 16th century, there were at least 14 outbreaks of epidemics affecting both urban and rural populations. Frequent epidemics, persistent food shortages, and poor hygiene became common causes of death. According to the general ATR census of the 18th century, half of those born died before adolescence, and the average life expectancy could not exceed 40 years.
According to archaeological data, most of the dead are buried in church crypts and cemeteries, in villages – in remote areas, on a small hill. The victims of the epidemics were buried alone, on the slopes of hills or in areas outside the city. The common city cemetery appeared only in at the end of 18th century.
---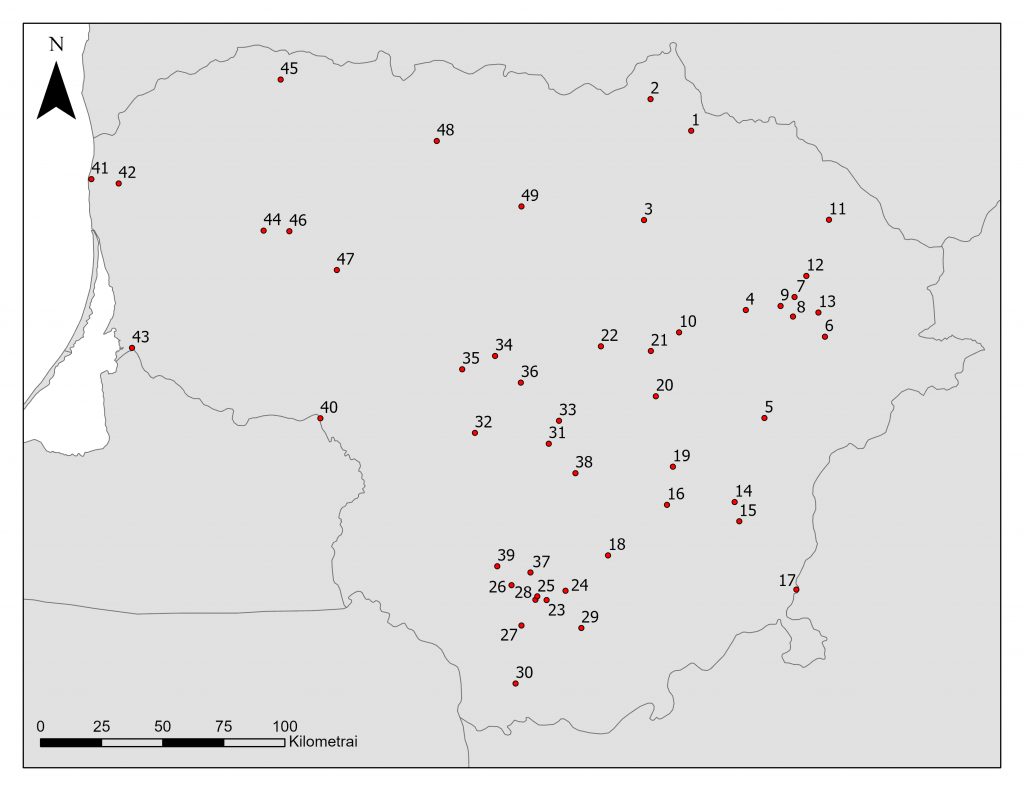 The anthropological collection of VU MF stores human remains of the 13th – 18th c. from 67 sites located in the territory of present-day Lithuania. In total, material of the Middle ages and the Early modern period consists of 4703 skulls and 4259 postcranial skeletons:
| | | | | | |
| --- | --- | --- | --- | --- | --- |
| | Site name | District/City | Sites ( N) | Skulls (N) | Postcranial skeletons (N) |
| 1 | Alytus | Alytus | 2 | 1395 | 1268 |
| 2 | Bajorai | Vilniaus | 1 | 8 | 7 |
| 3 | Bazorai | Alytaus | 1 | 61 | 36 |
| 4 | Didieji Likiškiai | Alytaus | 1 | 112 | 66 |
| 5 | Diktarai | Anykščių | 1 | 37 | 31 |
| 6 | Dubingiai | Molėtų | 1 | 7 | 33 |
| 7 | Gėluva | Raseinių | 1 | 106 | 90 |
| 8 | Geniakalnis | Utenos | 1 | 39 | 39 |
| 9 | Graužiai | Kėdainių | 1 | 4 | 9 |
| 10 | Jurgionys | Trakų | 1 | 47 | 54 |
| 11 | Kalesninkai | Alytaus | 1 | 39 | 28 |
| 12 | Karmėlava | Kauno | 1 | 57 | 23 |
| 13 | Kernavė | Širvintų | 2 | 493 | 367 |
| 14 | Kloviniai | Utenos | 1 | 43 | 33 |
| 15 | Kražiai | Kelmės | 1 | 12 | 15 |
| 16 | Kretingos senkapis | Kretingos | 1 | 10 | 10 |
| 17 | Kriemala | Kauno | 1 | 3 | 3 |
| 18 | Leipalingis | Lazdijų | 1 | 107 | 58 |
| 19 | Liepiniškės | Utenos | 1 | 30 | 32 |
| 20 | Makrickai | Marijampolės | 1 | 8 | 9 |
| 21 | Mankūnai II | Alytaus | 1 | 3 | 3 |
| 22 | Narkūnai | Utenos | 1 | 7 | 5 |
| 23 | Norkūnai II | Prienų | 1 | 16 | 13 |
| 24 | Obeliai | Ukmergės | 1 | 30 | 10 |
| 25 | Palanga | Klaipėdos | 1 | 29 | 25 |
| 26 | Papilys | Biržų | 1 | 3 | 2 |
| 27 | Paūdronys | Šalčininkų | 1 | 7 | 9 |
| 28 | Plauciškiai | Pakruojo | 1 | 67 | 39 |
| 29 | Pribitka | Plungės | 1 | 63 | 27 |
| 30 | Pumpurai | Mažeikių | 1 | 42 | 44 |
| 31 | Rakaučizna | Ukmergės | 1 | 51 | 59 |
| 32 | Ramoniškiai | Šakių | 1 | 34 | 31 |
| 33 | Riklikai | Anykščių | 1 | 4 | 5 |
| 34 | Rinkuškiai | Biržų | 1 | 26 | 25 |
| 35 | Rokėnai | Zarasų | 1 | 0 | 1 |
| 36 | Rukliai | Utenos | 1 | 123 | 111 |
| 37 | Rumšiškės | Kaišiadorių | 1 | 57 | 44 |
| 38 | Ruseiniai | Kėdainių | 1 | 27 | 26 |
| 39 | Rusnė | Šilutės | 1 | 17 | 18 |
| 40 | Skrebinai | Jonavos | 1 | 51 | 47 |
| 41 | Tauragnai | Utenos | 1 | 29 | 36 |
| 42 | Tiltagaliai | Panevėžio | 1 | 13 | 9 |
| 43 | Tulpiakiemis | Ukmergės | 1 | 74 | 38 |
| 44 | Užubaliai | Alytaus | 1 | 73 | 73 |
| 45 | Valdomai | Šiaulių | 1 | 9 | 8 |
| 46 | Varniai | Telšių | 2 | 54 | 37 |
| 47 | Vievininkai | Elektrėnų | 1 | 74 | 86 |
| 48 | Vilnius | Vilnius | 16 | 1060 | 1179 |
| 49 | Vinkšninės | Alytaus | 1 | 42 | 38 |
The burials of the same period found in Vilnius are numerous. Currently, 1.060 skulls and 1.179 postcranial skeletons from 16 different burial sites are stored, representing a multi-cultural community of Vilnius residents:
| | | |
| --- | --- | --- |
| Burial site in Vilnius | Skulls (N) | Postcranial skeletons (N) |
| Aguonų g. 10 | 99 | 114 |
| Arsenalo g. 3 (keltuvo į Pilies kalną apatinė aikštelė) | 9 | 9 |
| Bernardinų bažnyčia | 17 | 17 |
| Bokšto g. 15 / Savičiaus g. 17 | 17 | 19 |
| Bokšto g. 6 | 395 | 472 |
| Čiurlionio g. 3 | 28 | 26 |
| Gedimino kalnas (ŠV šlaitas) | 7 | 9 |
| Latako g. | 98 | 64 |
| Maironio g. 13/6 | 1 | 1 |
| Polocko g. / Kreivasis skg. (Užupis) | 26 | 26 |
| Pranciškonų bažnyčia | 49 | 70 |
| Subačiaus g. 41 | 147 | 167 |
| Subačiaus g. 7 | 113 | 128 |
| Šv. Kotrynos bažnyčia | 7 | 8 |
| Vasario 16-osios g. 1 | 38 | 41 |
| Verkiai | 9 | 8 |