The last glacier from Europe began to recede around 14 000 BC. Tundra vegetation began to spread, while the territory of present-day Lithuania was dominated by a constantly changing Arctic climate. At the time, Paleolithic people traveled enormous distances during their short lived lives. This nomadic lifestyle was heavily influenced by their specific diet which consisted mostly of protein and the main source was reindeers. These nomadic communities were wandering not only to hunt, but also in search of a good quality flint. In Lithuania flint is most abundant in the southern part of the country, thus Paleolithic camps are spread around this region.
In the 8th millennium BC the warming climate marks the beginning of the Mesolithic. New fauna and flora offered rich food supplies, while reindeer roaming in large herds became widespread in Lithuania. During the Mesolithic period, fishing constituted a significant part of everyday activities, thus fish became the main source of protein. The fishing communities were quite sedentary.
The emergence of ceramics around 5000 BC in the territory of Lithuania marks a new era, which can be called various ways – ceramic Mesolithic, Subneolithic or forest Neolithic. While Europe was introduced to new spreading lifestyle of hoarding animals or farming this was far away from that reality in the territory of Lithuania. It was still inhabited by relatively sedentary communities, mostly engaged in fishing, gathering, as well as hunting, and only ceramics was incorporated in everyday life. The changes took place only around 3000-2900 BC, when the first true Neolithic cultures – Globular Amphora and Corded Ware – reached the territory of Lithuania. Representatives of these cultures had domestic animals, cultivated plants, and produced a new type of flat-bottomed ceramics. With the appearance of these people, the Neolithic begins in the territory of Lithuania. The Corded Ware culture people in Lithuania stood out not only by the distinct way of life or diet, but also by the way of burying their dead – they were usually buried crouched, in the so-called sleeping position. The collection of Vilnius University preserves skeletons of both old locals and representatives of the Corded Ware culture.
---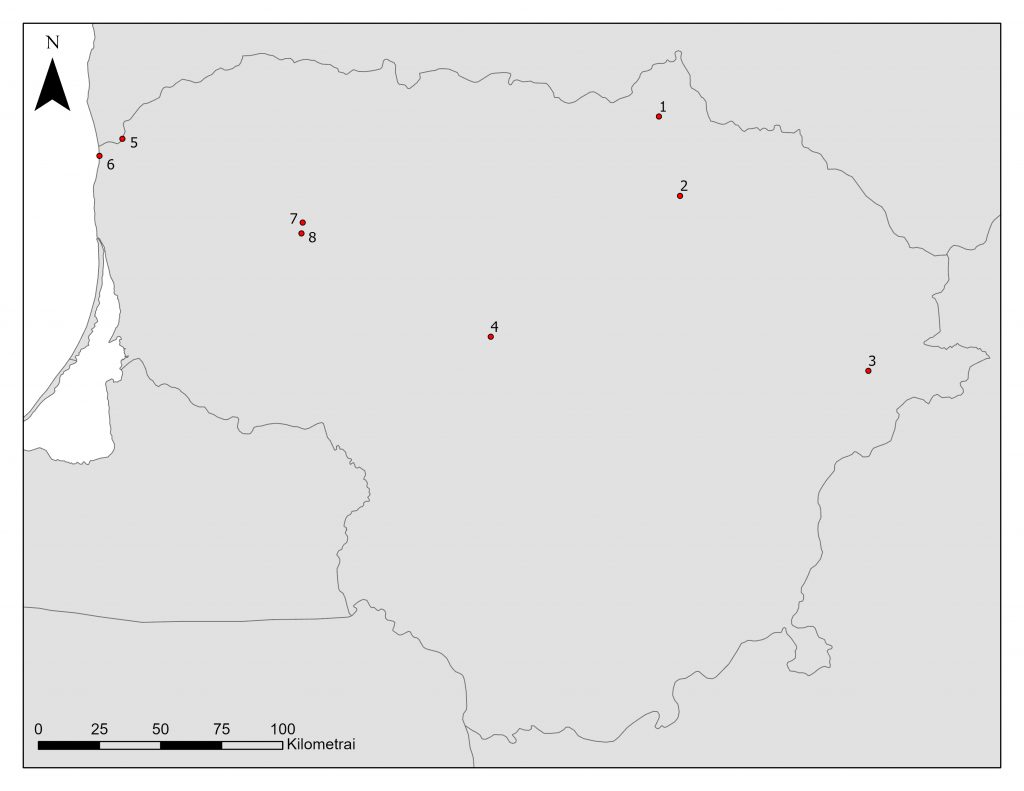 The anthropological collection of VU MF preserves Stone Age burials from 8 objects located in the territory of present-day Lithuania. In total, the preserved Stone Age material consists of 55 skulls and 28 postcranial skeletons:
| | | | | |
| --- | --- | --- | --- | --- |
| | Archaeological site | District | Skull No. | Postcranial skeleton No. |
| 1 | Benaičiai | Kretingos | 2 | 2 |
| 2 | Biržai (senojo miesto vieta) | Biržų | 1 | 1 |
| 3 | Duonkalnis | Telšių | 13 | 13 |
| 4 | Gyvakarai | Kupiškio | 1 | 1 |
| 5 | Kretuonas | Švenčionių | 28 | 6 |
| 6 | Plinkaigalis | Kėdainių | 3 | 2 |
| 7 | Spiginas | Telšių | 3 | 3 |
| 8 | Šventoji | Kretingos | 4 | – |
The collection contains the remains of at least 58 individuals, all of whose survival is fragmentary. The chronology of material is wide: from Mesolithic to Neolithic. The majority of commingled and fragmented remains are from Kretuonas (Švenčionys district). 86.2% of all protected Stone Age materials are the remains of adults, 13.8% – the remains of non-adults (Fig. 1). The age distribution of non-adults and adults is shown in Fig. 2 and Fig. 3: